I wrote Marilyn's rebuttal letter in a very deliberate fashion (see PART III: Our winning presentation folder for complete text). One convention I used was "sub heads," which are the underlined headings found at the beginning of many of the paragraphs. I used sub heads in the "third person" so that if a judge were to read the rebuttal (and he probably will), the letter very quickly calls attention to the landlord's various lies.
Since the landlord filed five lawsuits against Marilyn, I organized the rebuttal based on each lawsuit, which you probably won't have to do, since it's unlikely your landlord will file more than one lawsuit against you (or you against him). For each lawsuit, I cited the civil codes that were violated, and then disputed the claims. Since a judge will likely read your rebuttal letter, it's important that you first cite the laws that were violated, then dispute the landlord's claims. This ensures that the judge considers the law first, and the claims dispute second. This is strategy!
When you look at our rebuttal letter (full size available in the eBook), you'll notice that I include "EXHIBIT" letters at the end of certain sentences to cross-reference our evidence. These were not included in the original letter to the landlord, but were added later for the judge's reference. Add these exhibit references shortly before you go to court. Our landlord mailed Marilyn both an itemized list of costs and a letter explaining his charges. The judge wants to know what the landlord is charging for, and will look at the itemized list because it has the dollar amounts. I pointed out numerous violations of California Civil Code 1950.5 in the landlord's itemized list, and I suggest you review the law in your state to see if your landlord's charges violate your state's laws as well (see our presentation folder). Again, stick with our strategy of arguing law first, and disputing the landlord's claims second.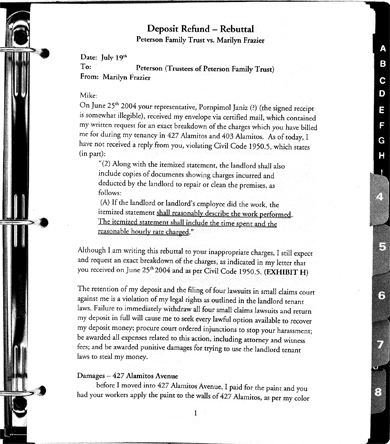 When you create your rebuttal letter, I suggest you organize it in this manner:
· Point out any violations of the landlord tenant law by citing the exact law and his violation of it with regard to your move out. For example: he didn't give you a walk through (CC 1950.5 (b) (2)), didn't give you an opportunity to remedy deficiencies, etc.,
· Any violations of the landlord tenant law in the itemized list your landlord supplied,
· Dispute his claims, point by point, by following his letter chronologically,
· Indicate any witnesses you'll have testify on your behalf (either in person or via a letter),
· Indicate any past tenants you are aware of who have had similar problems with your landlord, and state that their situations will also be brought to the judge's attention,
· Indicate any pictures you have to substantiate your claims (but don't include them).
End the letter by:
· Demanding he return your deposit in full (or the amount you dispute),
· Stating you will sue him in court for the amount he owes you (if he isn't already suing you, in which case you'll state that you'll win in court), and
· That you will ask the judge to award you the amount of your deposit, plus any additional amount allowed by your state's law for his "bad faith" claims against you (see 1950.5 (l) in our presentation folder for California's "bad faith" claims clause).
Mail the letter via certified mail with a return receipt. If you don't get a receipt within a reasonable amount of time, you may want to use UPS to deliver the letter, since signatures are required for UPS packages.
While you are waiting for a response (which may never come, by the way), it's time to prepare your presentation folder.